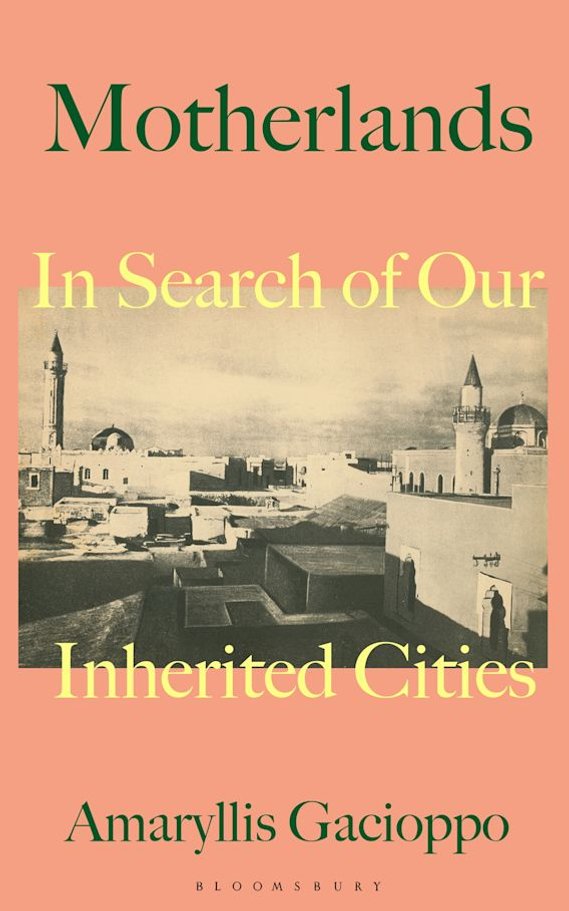 MOTHERLANDS
Bloomsbury UK
A Spectator Book of the Year, 2022
"A remarkable literary debut . . . Part memoir, part travelogue, Motherlands is ultimately an investigation of how we come to understand the past at all" Guardian
Our creation stories begin with the notion of expulsion from our 'original' home. We spend our lives struggling to return to the place we fit in, the body we belong in, the people that understand us, the life we were meant for. But the places we remember are ever-changing, and ever since we left, they continue to alter themselves, betraying the deal made when leaving.

Australian writer Amaryllis Gacioppo has been raised on stories of original homes, on the Palermo of her mother, the Benghazi of her grandmother and the Turin of her great-grandmother. But what does belonging mean when you're not sure of where home is? Is the modern nation state defined by those who flourish there or by those who aren't welcome? Is visiting the land of one's ancestors a return, a chance to feel complete, or a fantasy?

Weaving memoir and cultural history through modern political history, examining notions of citizenship, statelessness, memory and identity and the very notion of home, Motherlands heralds the arrival of a major talent that opens one's eyes to new ways of seeing.
REVIEWS:
"A brilliant exploration of mixed heritage. Gacioppo traces her ancestral footsteps through four cities; Turin, Benghazi, Rome and Palermo. Sometimes, when Gacioppo hits a wall in her efforts to reach back in time, her solution is to enter a reverie in which she imagines what happened. These passages are deliciously written, rich and evocative. They sparkle even amid the crystalline prose of Motherlands as a whole" ― Farrah Jarral, Guardian
"The idea of home - whether real or imagined - animates this blend of memoir and history...and the result is unusual, intimate, and often moving" ― Matt Elton, BBC History Magazine
"Motherlands by Amaryllis Gacioppo is an appropriately hard-to-pin-down sort of book from a writer gifted with multiple heritages surveying the landscapes of her own and her family's pasts. Note: pasts necessarily in the plural, like those titular motherlands. My favourite books of this type find the big questions (belonging, memory etc) in small, concrete things: an old photo, an old building, a map. It's not a new approach, but few do it this well" ― Daniel Hahn, Spectator
"Amaryllis Gacioppo's book is about the idea of home: homes that have been left, the experience of migration and the changes wrought on a psyche in the process. In a sense this is a family history as Gacioppo returns to the cities where her mother, grandmother and great grandmother lived. Perhaps, too, the book is a sort of psychogeography, possibly a travel memoir. However it's defined, its use of pictures, memories and family stories makes for an absorbing creation" ― Jason Steger, Sydney Morning Herald
"...as Gacioppo writes, 'With each step forward into the future, something is lost, and this loss, the void created by it, travels with us. It is there to remind us that there is no such thing as returning.' That is, the griefs of time, of separation, of mortality are another exile from which there is no return. If a true homecoming is impossible and this greater kind of exile haunts us all, who amongst us remains unbroken?" ― Mathew Lyons, New Humanist